Meet Our Expert Instructors
Located at the corner of Stanford Ranch and Sunset Blvd next to the Bel Air Supermarket in Rocklin, California the Fusion Elite Performance Training Center offers a top-quality training environment for those who want to get in shape, compete, or just immerse themselves in the culture and traditions behind one of the great activities being offered at this facility.  
We offer instruction in Judo (USA Judo), Jujitsu (Jiu Jitsu) and Sport Jujitsu (Jiu Jitsu). Our instructors are nationally certified and each have undergone extensive training and background certification. We have taken every step in providing the newest and most up to date training materials available so that our participants can benefit from quality training within a clean and safe environment. There are also several changing rooms and restrooms on-site for your convenience. 
If you haven't seen this facility yet I highly suggest you stop by and take a look. We would love an opportunity to meet with you!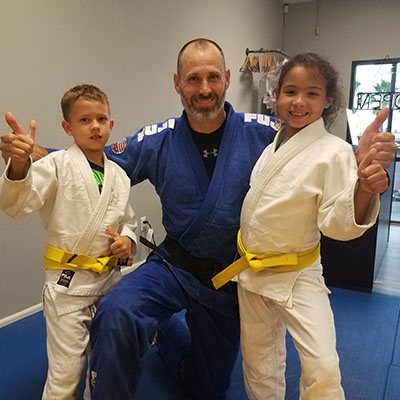 SCHOOL HEAD & INSTRUCTIONAL DIRECTOR
ABOUT SHANE
As lead instructor of the Rocklin Judo program Sensei Thompson brings with him a wealth of knowledge and experience. Sensei Thompson started his training in 1983 and currently holds rank as a 5th Degree Black Belt (
Godan
) in Jujitsu. He also holds a 4th Degree Black Belt (Yodan) in Judo
 under the guidance and direction of former U.S. Olympic Judo Coach Willy "Clipper" Cahill. As a former competitor in many martial arts venues which include Karate, Kick Boxing (AAU), Boxing (AAU), Judo, Wrestling and Sport
Jujitsu competitions Sensei Thompson has amassed his share of success receiving numerous regional gold medals and national podium finishes. He has also had tremendous success in leading others to great achievements at the National and International levels
of competition. Drawing from his experiences in Hawaiian Jujitsu, Sport Jujitsu, Kodokan Judo,
Shorin
Ryu Karate, Brazilian Jiu Jitsu (BJJ), Boxing, American Kickboxing, and Wrestling Sensei Thompson
has the ability to
offer a variety of technical applicat
ions for both self-defense and sport. He has also led programs such as Women's Self-Defense for the City of Roseville and has been a featured instructor at many
large scale
conventions and seminars throughout the United States and Puerto Rico. He is curren
tly a Continental Certified USA Judo Coach and has experience coaching elite level Judo athletes of the US National Judo Team at international venues. He holds rank with Jujitsu America, USA Judo, and the United States Judo Association. In 2013 Sensei Thom
pson was named Instructor of the Year by Jujitsu America.
INSTRUCTOR & STANDARDS CHAIRMAN
ABOUT TED
Starting his training in 1982 Sensei Nakada is currently a Senior Master Instructor – 4th Degree Black Belt in Judo and currently rounds out the
Rocklin Judo program with his extensive experience in young athlete development. Studying under the tutelage of former U.S. Olympic Judo Coach Willy "Clipper" Cahill, Sensei Nakada learned the art of Kodokan Judo as well as some Jujitsu. After years of stu
dy and competition Sensei Nakada became an instructor for the youth Judo program at the
well known
and highly
sought after
Cahill's Judo Academy. He held this position for 12 years. Currently Sensei Nakada is a Continental Certified USA Judo Coach and hold
s rank with USA Judo and the United States Judo Association.
ABOUT ROB
A retired veteran of the United States Coast Guard Sensei Rob initially started his Judo training in Chico, California at the Chico Judo Club dojo.
He subsequently continued his studies while in the military and had the opportunity to obtain instruction from a variety of instructors both in the states and overseas. Currently Sensei Rob holds a 2nd Degree Black Belt (Nidan) in Judo with USA Judo and
the United States Judo Association and serves as an Assistant Instructor in our program. With deep roots in Judo and a lengthy career in Law Enforcement activities Rob comes to us with a wealth of knowledge and
real world
experience and we are honored to h
ave him as a member of our team. Currently Sensei Marquardt is a National Certified Judo Coach with USA Judo and a U.S. National Champion in the sport.
ABOUT MANUEL
Starting his training in DanZan Ryu Jujitsu in 1988 at U.C. Davis while completing his undergraduate studies Manuel was forced to take a small hiatus while attending medical school in Omaha, Nebraska. In 1991 he took up the practice of Judo and shortly after started competing in the sport. Upon returning to California in 1997 he immediately enrolled into another DanZan Ryu Jujitsu program so that he could continue his studies in that art. In 2014 he joined the NorCal Sport Jujitsu & Judo Team, now known as Rocklin Judo and currently serves as one of our mentoring students and assistant Judo coaches. Manuel has a wealth of knowledge and is currently a State Certified USA Judo Coach. He has obtained rank in both Judo and Jujitsu currently possessing a 2nd Class Brown Belt (Nikyu) in Judo through USA Judo and a 1st Class Brown Belt (Ikkyu) in Jujitsu. In addition, Manuel is a Licensed Medical Doctor and currently serves the public as a Primary Care Physician.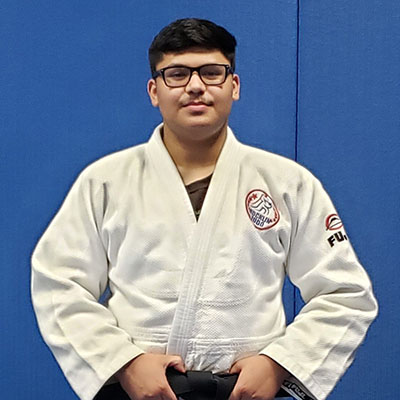 ABOUT ELIAS
Sensei Elias Sabin holds a 1st Degree Black Belt (Shodan) in Judo with Rocklin Judo and USA Judo. He currently serves as an Assistant Instructor in our program and still competes at a very high level. Sensei Sabin has been a member of the U.S. National Judo Team at international venues and is a National Judo Champion. In 2021 he was ranked as the #1 Judo Athlete in the United States for the IJF Juniors 100kg division. He knows what it takes to be competitive at an elite level and has become very comfortable with addressing difficult or challenging situations. Hard work, committment and perserverence are no stranger to this individual. He has great communication skills and is exceptionally well versed at coaching athletes in a manner that enables them to absorb content quickly and efficiently. In 2019 Sensei Sabin was named Athlete of the Year.
ABOUT ALEX
As a former competitor on the U.C. Davis Judo Team Sensei Alex Chebotarev is no stranger to
purpose minded
training. He is a hard worker and loves helping others reach their goals whether it be general fitness, self-defense or competitive aspirations. Sens
ei Chebotarev loves a good sweat so you will always see him grinding away during our workout sessions. At the moment he holds a 2nd Degree Black Belt (Nidan) in
Judo and is currently finishing up
all of
his coaching modules for national coac
hing certification. He also holds
Black
Belt Rank with the Korean Judo Association.
ABOUT KELLI
Sensei Kelli Jocoy is currently a 1st Degree Black Belt (Shodan) in Judo with USA Judo and the Korean Judo Association. They were
a fierce competitor on the U.C. Davis Competitive Judo Team and brings with them a wealth of knowledge in application, conditioning and mindset for those looking to take up the art and sport of Judo. Kelli is intense when it comes to their own training
regi
mine
and loves helping others find the strength within themselves to be better at all they apply themselves to. They are currently finishing up their coaching modules with USA Judo for national accreditation.